PTS Is Your Home for Epicor® ERP Support
Epicor® ERP has become an industry-leading service for manufacturers and many other industries. Practical Technology Solutions is a leading independent professional services provider of business support and consulting solutions for brands using Epicor® professional services. Whether you need help with implementation, customization, staff training, administration, operational optimization, upgrades or maintenance, we have the management and development skills to get your business running right. Ask us about Epicor® services, SYSPRO services, Macola services and much more!
Why We Support Epicor® ERP Solutions
The Epicor® ERP system provides specific global enterprise development tools that facilitate growth in both cloud and on-premise deployments. Our customers have seen significant success with Epicor® services, but they also run into Epicor® problems that need a specific, tailored approach to resolve. That's why PTS has created a full suite of independent Epicor® professional services that allow you to implement new modules, move between versions, train your team, customize the platform or perform a full system audit to better understand where software development can help you grow. Get all the benefits of Epicor® ERP systems by working with PTS for independent Epicor® support.
How Does PTS Help You Grow?
PTS offers your company independent Epicor® problem-solving capabilities to achieve your goals. We'll help you with affordable training, consulting and support tools that are designed specifically for companies of varying sizes. We've been providing independent support and services for businesses large and small since 1997. Our staff has more than 210+ combined years of Epicor® experience, allowing us to offer services that no other independent Epicor® consulting firms can, whether here in the U.S. or anywhere else around the world. Our consultants hold a variety of certifications and qualifications, including many who are 9.05 certified, so you can rest assured that we can properly apply, update and manage the Epicor® ERP solutions you rely on today.
PTS offers a wide range of Epicor® services to help you get the most out of your Epicor® software platform, no matter what business you are in. This includes Epicor® support, Epicor® project management consulting, Epicor® systems administration, implementation, training, development and help with your Epicor® upgrade, as well as service and support across a range of Epicor® software, including Epicor® Vantage®, Epicor® 9 and Epicor® 10.
PTS has performed countless Epicor® implementations and upgrades for companies large and small across a wide variety of industries, from manufacturing and electronics to medical devices and automotive supplies. We can easily provide your new Epicor® system install or Epicor® upgrade quickly and efficiently so you can start benefiting from Epicor® right away.
Our expert independent Epicor® consultants offer specific onsite and remote training designed to help your company make the most out of your Epicor® ERP subscription. Get help with Epicor® problems and system confusion with specific training and a fully documented process that gives your team a quick reference for future success. PTS offers personalized Epicor® training to suit your company's needs. Our training is customized so your employees learn the software the way your company is going to use it, with concrete examples using your company's own data. We offer complete training on all Epicor® software, so you can be confident that at the completion of the training, your workers will be fully conversant in Epicor®. Training topics include Epicor® Inventory Management, Epicor® Project Management, Epicor® Time & Expense Management and much more, with each session taking only a matter of hours.
Need custom Epicor® ERP solutions and dashboards to better understand your business at a glance? Our expert development teams can create dashboards, updateable dashboards, customized dashboards, C# code, VB.NET, .NET, Crystal Reports, SSRS, system customizations, BPMs and much more, all designed to provide clarity into Epicor® professional services software.
Epicor® Configuration
Make sure your Epicor® ERP systems are working properly and best-fit to your industry. An international parts manufacturer has a much different business model than a local repair facility or distributor. Don't let Epicor® for manufacturers treat your business like someone else. Turn to PTS for that custom fit for improved visibility and operational efficiency.
If you encounter Epicor® problems, you want someone knowledgeable in your corner to help you resolve them quickly. That's why PTS provides you with an independent Epicor® consultant, many of whom are 9.05 certified, meaning you can trust their expertise in the use of various Epicor® professional services. We make sure our experts are current on the latest installations and upgrades so they will always know best how to help you. Our support services for Epicor® ERP go well beyond simple implementation and training on Epicor® services. You will benefit from our more than 175 years of combined experience with Epicor® services, not just initially, but throughout your use of Epicor® solutions. We offer continuing support on all versions of Epicor®, from Vantage® to Epicor® 9 and Epicor® 10.
PTS Epicor® Support for your Epicor® software, such as Epicor® Vantage, Epicor® 9 Epicor® 10 and Epicor® ERP, benefits you in a number of different ways. Since we are an independent service provider, we understand the benefits of Epicor® ERP and other Epicor® software for a variety of different businesses. We know how best to implement the software for your business and what problems may arise. Whether you're using Epicor® for manufacturing, enterprise or some other sector, our support team will guide you with custom dashboards and development tools that optimize Epicor® solutions for your business.
Epicor® software is designed to support your business growth goals through helping you reach new markets and driving improved customer experience. PTS offers full customization options and training for Epicor® software in order to help you maximize the benefits of the Epicor® ERP system.
And Much More
Whether you need Epicor® for manufacturing, wholesale, warehousing or other ERP functionality, PTS has the right team, talent and time to solve your issues. We want to help you achieve all of the Epicor® ERP benefits available for a company of your size, with training to make those wins last long after our support ends. From largescale operations to a local machine shop, we'll build a custom support program for you to deliver unparalleled results. Find out more, today.
Your Independent Epicor® ERP Resource * Your Certified SYSPRO® Partner * Your Certified Macola® Partner
Epicor® Consulting, SYSPRO® Consulting & Macola® Consulting
PTS provides best-in-class support, customization services, integration, development and programming services for Epicor® 10, Epicor® 9, Vantage®,  SYSPRO and Macola® ERP systems. Contact us now to learn more!
Epicor® Development, SYSPRO® Development & Macola® Development
You've found an amazing resource for Epicor® Development. We have skills for SSRS, BPM's, BAQ's C#, VB.NET, Product Configurator, Service Connect, Progress ABL, Customizations, Crystal reports, workflows  and other Epicor® development services. PTS has worked with numerous database types and software systems since 1997.
Epicor® Training, SYSPRO® Training & Macola® Training
PTS offers customized training for your staff based on their roles in the organization. Training can be on-site, off-site, or web-based. We can even train you using your own data to maximize learning.
We have provided Epicor®, SYSPRO® & Macola® services to over 400 customers on 4 continents
EPICOR® IMPLEMENTATION
New Epicor® ERP Implementations, Major Upgrades & Legacy Migrations, Business Process Improvements, General Ad Hoc Consulting and Product Configurator
BUSINESS PERFORMANCE
Business Process Optimization, System/environment Audits,  Business Activity Queries, Business Process Management, Trackers, Dashboards and Business Intelligence Data Warehousing
TRAINING & SUPPORT
End User Epicor® Training, SYSPRO® Training, Macola®  Training and general Level 1 & 2 Help Desk
TOOLS & TECHNOLOGY
Custom Epicor® ERP Development, C#, Service Connect, Customizations, Custom workflows, Product Configurator, SSRS (SQL Server Reporting Services Service), Crystal reports, Advanced Business Tools, Data Conversions and Systems Consulting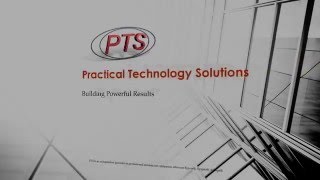 "The other service we used from PTS was a training session that lasted a few days on site. We used one of their trainers, Jeremy, who was very talented in Epicor® but also had a naturally good communication style about him. He taught a few of our people the basics of writing Crystal Reports out of Epicor®. We plan on using PTS as a resource in Epicor® as we move forward."
Precision Marshall Steel Company
"We have used PTS for several of our Epicor® needs.  They have helped with our Epicor® implementation through training of our staff.  They have also helped with more technical aspects such as helping us set-up a secondary application server.  I have found PTS to be extremely knowledgeable and professional, and quick to help when needed."
Seymour Tubing Inc.
"The straight forward approach was a relief and I appreciate how the PTS team jumped straight in despite the complex challenges we faced.  I was able to speak with Jim directly several times which provided a great amount of comfort, I never had any trouble reaching him and/or a member of his team.
The team at PTS assisted in arranging meetings in which we discussed complicated business process and procedure requirements. This sped up the improvement process significantly.  PTS' methodology was a perfect fit to quickly and thoroughly address our needs and provide solutions.
The functional results that were produced as a result of Jim's team were a key component in keeping operations running.  Moreover, their skills for development are extraordinary.  On top of his work, Jim's team also provided excellent support. They dealt with questions ranging from the absolute basics to advanced easily and with an air of patience that can only be described as completely forgiving!
In short, I would have no hesitation in recommending PTS to any prospective client and I would be happy to answer any questions related to this reference."
Olmsted Products
"We don't have a traditional IT department…… I've worked with a few different consultants over the last 3 years, after I found Practical Technical Solutions (An independent professional services provider) , I will always go to them first with a need.  They got to my projects in short order, knew exactly what I was talking about most of the time and if they didn't, it was easy to explain to them what I needed.   The rate is better and the work is more efficient than I have found elsewhere.  I would highly recommend PTS (An independent professional services provider) to anyone using Epicor®."
Dudek & Bock
Practical Technology Solutions (An Independent Epicor® services provider) has an Epicor® Development staff that solely performs Epicor® Customizations on an hourly basis. We have supported many versions, include Epicor® ERP 10. We are craftsman and purveyors of the Epicor™ ERP System. If you require Epicor® Development or can use us to perform an Epicor® Migration we are the experts. Moreover, we are experts with Epicor® Implementations – the complex needs of your business can be put on the shoulders of a well-qualified and confident staff. Epicor® Software enhancing is what we eat and breathe. Our enthusiasm for supporting our customers is unsurpassed. Contact us today for: Epicor® Customizations, Epicor® Development, Epicor® ERP 10 needs, Epicor® ERP system needs, Epicor® Implementations and Epicor® Migrations.